Alışverişi seviyorsanız veya ilginç dükkanları ziyaret etmek istiyorsanız, Dam Meydanı'nın merkezinde - De Bijenkorf (türkçesi, Arı Kovanı anlamına geliyor) kaçırılmaması gereken en büyük Amsterdam mağazası...
De Bijenkorf, altı katlı yüksek bir bina içinde

bir şölen gibi ışıkla dolu, ilginç nesnelerle şaşırtıcı, modern tasarımla parıldayan, zeka ve eğlencenin bir karışımına sahip...
De Bijenkorf has twelve stores across The Netherlands including Amsterdam's largest department store. It began life as a small haberdashery store in Amsterdam, and grew to become today's city centre landmark.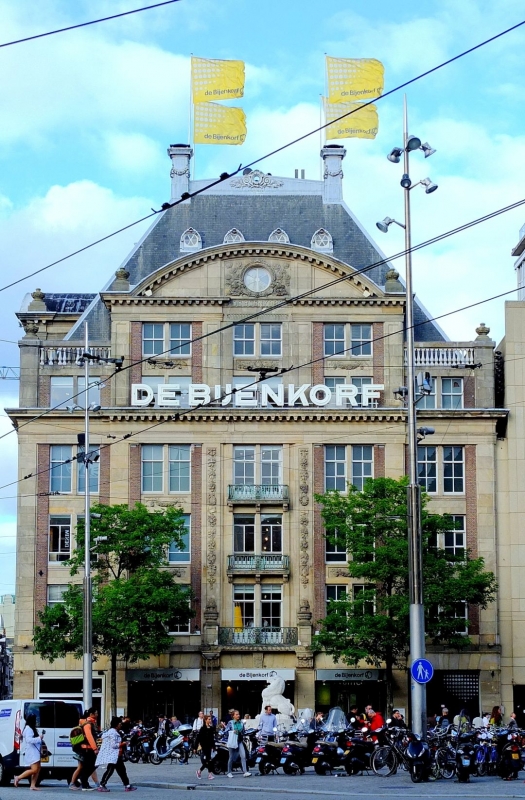 de Bijenkorf is a premium department store with an innovative portfolio of products and brands: we are constantly surprising customers with unusual products and our focus on an inspiring and a luxurious customer experience. Luxury brands stocked include Louis Vuitton, Gucci, and Hermès.
In 1870, Simon Goudsmit opened a small haberdashery on the Nieuwendijk called 'Magazijn de Bijenkorf'. His shop grew and grew until it became something new for 19th century Europe - the department store – a place where you could buy everything from clothing to food, and furniture to books. de Bijenkorf was The Netherlands' first department store.
Arthur Isaac, Simon Goudsmit's successor, soon expanded and renovated the location on the Nieuwendijk. Business became so successful that he decided to permanently establish de Bijenkorf on the Dam, in a palatial building designed by architect J.A. van Straaten.
In the 20th century, branches followed in other cities, including The Hague, Rotterdam, Utrecht and Eindhoven.
de Bijenkorf Amsterdam covers 21,000 sq m in the heart of Amsterdam. Located on the Dam itself, the building is one of the most striking in the city centre.
Rebuilding was delayed by World War One, but soon after,de Bijenkorf started the innovative advertising campaigns that still characterised the department store today. Exhibitions by young artists and new forms of advertising ensured the store continued to grow.